COLOUR ANALYSIS FOR MEN
Colour affects mood, apparent body shape, perceived age, your outlook on life and the overall impression you make on others.
People are drawn to other people who look happy, healthy, vibrant and who project a confident, positive image.
Your head, neck and shoulders are the first thing that people notice about you – the colours you wear, your personal grooming, hair styles, eye and head wear. Correct colours will attract opportunity into your life, reflect your personality, attitudes, trustworthiness, health and even wealth. The wrong colours can make you appear tired, sick, and add years to your age.
Wearing colours which conflict with your natural colouring will be unflattering will make you look older, ill, and exhausted.  When you have your personal colour analysis, you will be amazed how good you will feel when you start wearing colours which will flatter you.
Your colour analysis consultation includes an optional complimentary skin health and grooming review.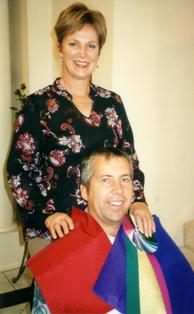 You are draped and analysed to identify and take home your best 50 colours (from 700) for all your core outfits, shirts, pants, jackets, jewelry and accessories, including:
Your "Knock-out Colours.
best neutrals specific to your colouring for versatility and enhancement.
how to combine colours that are most flattering for you.
how to break the rules and wear any colour you love but is not in your palette.
how to wear black and why it's probably not in your palette.
Which colour is Your black, which may not be "black".
Includes Consultation Notes to explain how to use your colour palette for all areas of your life, including your environment and Save you time and money when shopping. 
PRIVATE COLOUR ANALYSIS FOR MEN  Allow 1.5  hours
Invite your partner or a friend save $ or combine with another service.  
Perfect Partners:   with Style Consultation to cover both sides of the coin.