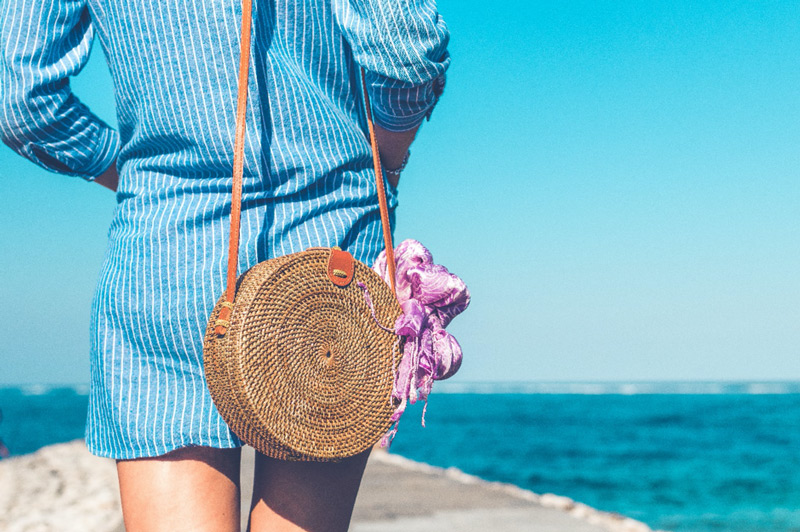 Here we are again!  And our wardrobe is not ready for summer.  These are some of the things we often overlook until we need them, when we search for something that isn't there, a soft white camisole, or a summer weight pair of black slacks, a lightweight three-quarter sleeve jacket. If you've ever found yourself in this situation, struggling with "if only I had", then you know what I'm talking about.
Take action and get your wardrobe into ready for summer.
Now is the time to rethink your summer wardrobe as the new spring fashions flood into the stores. Don't wait for it to happen.  It's time now to take stock of the items that will work for you this summer and how to mix and match them, what to purchase to add an item or a new accessory to complete them.
What to do first.
Make a list of all your activities that are routine for you. Now add in the ones that are coming up over the next 3 to 6 months. Moving to a different climate, applying for a new job, looking for a new love, going on holidays, playing a new sport? Do you have a special occasion such as an anniversary or a wedding? Are you planning a trip overseas?
What should be in your Summer Ready Wardrobe?

The clothes that make you look and feel great any time of the day.  Plan your wardrobe and put it together and then forget about it.
Camisoles
Short sleeve shirts
T Shirts
Jeans
Summer Casual Dress
After 5 Dress
Good Summer Bag
Hat and Sun Glasses
Sandals
Dressy Footwear
Light weight trousers
Cool Suit
Casual Tote bag
Slide-ons
Swimmers
Sarong
Make a list of the items you need for each warm weather activity.
Are there any items on your list you don't yet have? For example:
For Work: Trousers, jacket, skirt, blouses, shoes and bags.
Socialising: Slacks, shorts, skirts, shirts, jeans, sandals, sunglasses, T Shirts.
Holiday/Leisure: Shorts, T shirts, sandals, swimwear, hats and sarongs, slacks, shirts, skirts, sunglasses, jeans.
Special Occasions: After 5 tops, camisoles, black slacks, accessories, jewelry, strappy shoes, shiny shawl/scarf.
Wet weather: Light jacket, umbrella, raincoat.
Now do your audit.
Now you have created a list of activities how does this all look when you open your wardrobe? Pull out the things that don't work for you anymore. Toss them out, donate them or sell them either by consignment or on ebay.
What have you not worn for the past 12 months and why haven't you worn them? Do they need mending, do the colours feel right, is the style a WOW factor for you, can you alter it or have it altered, shortened, or replace the buttons.
Now create a wish list to be ready for summer.
These are the gap items that will create stress if you don't have them when you need them. Now highlight the items that are not in your wardrobe. This is your shopping list!
Prioritise your list.
Chances are you have been wearing one area of the wardrobe during summer more than any others, more work clothes than usual or more casual is you work from home. You may now find you need to buy a few more things, but if your budget can't handle it all at once, then opt for the items that are going to have the largest impact on your wardrobe needs first. Then fill in all the gaps as your cash flow allows.
Divide your shopping list into 2 or 3 priority options, A new blouse, cami or jacket will have much more flexibility and impact on your wardrobe and will be the ones that are most noticed before skirts, pants and shoes. If you could add a few blouses and tops to your wardrobe in colours that best flatter you, then you are more than half way there. Remember to round out your wardrobe with work tops and casual tops for the weekend leisure time.
In order to look and feel your best, create a summer ready wardrobe that matches who you are and reflects how you spend your life. If you spend 70% of your time at work each week, and the rest in social activities and pottering around the house and relaxing watching TV your wardrobe will reflect this. Once you've filled the holes in your wardrobe and pulled your wardrobe together for your lifestyle, you can then focus on the accessories and "just for fun" pieces that take your eye while out browsing at the markets or the sales.
Only buy summer clothes when the time is right.
Now you have your list, start shopping. The best selections are early in the season however, there also seems to be a lot more sales these days. If you are a hard-to-fit size, you may have to be prepared to shop earlier rather than wait for the sales. Always keep your eye out, and stay focused on your list. If you like to shop at certain stores who carry your favourite brand, get on their email list and receive their new releases of stock.
Nothing compares to personalised fit of custom-made clothing!
Imagine wearing an outfit that no one else is wearing, and it actually fits you beautifully, skims your curves without tugging and pulling and is in the colours you love and which are perfect for YOU.
Not only that you can create a clothing capsule that mixes and matches in many unique ways just be bringing in one more garment to tie them all together. If you have had difficulty adjusting patterns this can be a deterrent from having a bespoke wardrobe, but there is a great solution for creating your own pattern blocks that anyone can master in one easy lesson.
Prepare your skin for summer.
Now the warmer weather has arrived, more skin is shown. Get a pedicure and take a pamper package for a defoliating foot massage. Cracked heels, flaky skin and hairy toes are all undeserving of beautiful footwear. Get a buff and polish, smooth and trim those tootsies for the summer months ahead.
Need help with your wild and dysfunctional wardrobe? Let me know how I can help.
Have you downloaded my
complimentary eBook?