Customised clothing versus ready-to-wear for a perfect fit.
Purchasing well-fitting and flattering clothes shouldn't be difficult, no matter your size or your shape. But that's just not the case for millions of women all over the world.
Their wardrobes, including mine at times, are in a pickle. I hear much anguish about frumpy frocks on offer because they are plus size, or either have only a choice between looking like their daughter or their mother, or just nothing inspires them because they feel designers have ignored them, sizes only go to size 14 or 16 in anything that has any flattering features, or are just not well made.
When there is a distraction such as poor fit or inappropriate styling, this is communicated in a variety of ways from unawareness of how it looks, to your feelings and views about how you feel about yourself on an unconscious level.
Let's take a look at the evolution of ready-to-wear clothing from the skill of tailors and seamstresses of customised clothing so we get the whole picture.
Women's ready-to-wear clothing really only surged in the 1920's.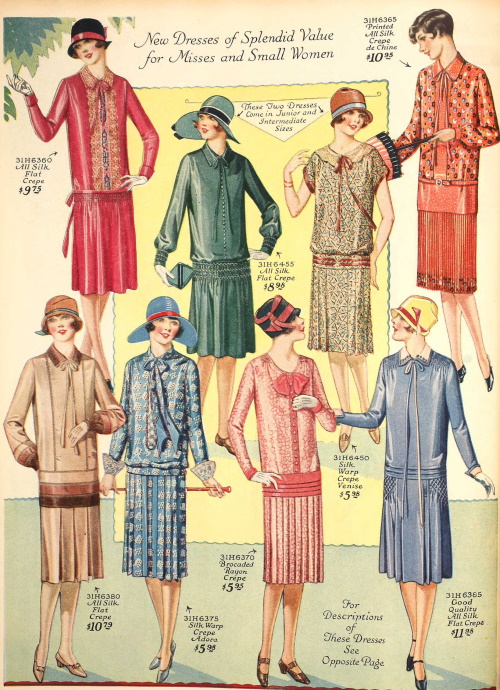 Before that time, women used to wear corsets to draw in their waists and accentuate their shapes so manufacturers had difficulty in creating clothing that fit.
In the 1920's, the styles became very much looser and had a straighter silhouette, which became much more popular and the manufacturers were over the moon they could cater for the majority of women with ready-to-wear clothes. From that era, manufacturers have more or less continued with this simplicity with a few exceptions and more detail in the finishing touches, but in the main, clothing silhouettes have not really changed from 1920. Image Source
This simplicity has created a dilemma for all curvy women, some of whom believe they can straighten out their curves rather than embrace them and actually look slimmer and younger showing them off. There's an art to that, which I can help you with to simplify your life.
In more recent times, women have resorted to trying their successes buying on line as the recent COVID 19 restrictions have limited supplies, and the purchasing satisfaction has been disappointing by up to 50%. This factor has greatly contributed to the high cost of clothing where millions of dollars all over the world are being wasted.  These garments are still hanging in wardrobes across the country with their tickets still on them, landfill is full of discarded clothes, and the amount of waste in developed nations would feed and clothe millions more.
But we all want to look younger and slimmer, and not only look good, but we feel good too!
I can hear a big 'Yes Please!" Right?
Unfortunately, for many women, the dilemma is still unresolved.
Garment fit has an effect on how you feel, and on how others feel about your personal or professional presence. The eye is distracted to those things which are not quite right, and the eye doesn't lie and when something's not quite right, the brain tries to work out what it is.
What did women do before 1920?  They made their own or wore bespoke clothing made for them. So, we've come full circle.
Who should consider bespoke clothing?
Here are 7 reasons, just to start with, why you might want to consider bespoke clothing.
1. You've shopped until you've dropped. You've gone to all the sales, weekend markets and boutiques and you still come up most times with a "settle for" garment or have returned home empty handed. When you do find something that you think you will love, you find it's an orphan and just doesn't work with anything you already have?
2. You have always bought from ready-to-wear clothing but you often have to have your garments length altered.
3. You have a non-standard shaped body and have difficulty getting them to fit as you may be one of the many, many women who have 3 dress sizes, not in any particular order, between your shoulders and legs, like tops, dresses, skirts, or slacks/pants.
4. You prefer better quality fabrics for drape, wash-n-wear properties, wear-ability on your skin or have allergies.
5. You may have special medical restraints like arthritis in your hands, are confined to a wheelchair or have recently had surgery and require easy to put-on or take-off garments you can do on your own.
6. You may have a special occasion and want to have a garment that no one else is wearing in the colour and style which makes you unique.
7. Or you just want quality, beautifully tailored clothes which fit you perfectly, and are your evergreens for a long time to come.
If you have an idle sewing machine and you know the basics of using it, you can sew your own clothes.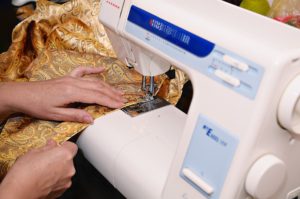 Just start with something simple, do some mending and get your confidence with small projects. I started making my kids clothes 40 years ago, and it was a great way to learn as they didn't need much fitting. Then I learned how to do stretch sewing techniques which I found easier, but some fabrics I fell in love with were non-stretch and required a bit more structure. That was before YouTube and the internet, and there are many "How to" videos there for access so you can see how it should be done.
There are many seamstresses in your area you could employ to create garments for you and they are well worth the investment, especially if you choose quality fabrics and choose styles which suit and flatter your shape and intention.
Before you invest in couture clothing, it is great advice to know which styles and colours are you most functional and flattering and reflect your personality first. Also, which fabrics are more suitable to your climate, your body shape, whether they need to have draping and fall characteristics, or best suited to structure and tailoring. It is certainly great advice before you go shopping for either ready-to-wear clothing or fabrics for making your own.
There are many sewing classes for levels and all ages in your area, and help is never too far away if you were leaning into your creativity. Or maybe you've just given up sewing altogether because you are frustrated with fitting a commercial pattern correctly and the whole thing is a disaster?
What if you could get perfect fit before you even cut into your cloth?
What if you could use your supply of fabrics and create unique outfits that fit you perfectly in colours and styles you love and that no one else is wearing?
I love finding tools to make my life easier and I figure you probably do too. Here's one I've been using for a few years and it's saved my sanity on many an occasion. If you are tired of spending money on clothes and adjusting patterns to find that they still don't fit, you will love the Pattern Drafter – for adults and children.
I'd love to show you how easy it is. I love this pattern drafting tool and I believe you might think it's better than sliced bread too. It's a mystery buster.
I have no formal training in pattern making or sewing but all the same I still make a lot of my own clothes and have been for decades.
If you have ever considered having a garment custom-made, we know you will be thrilled with the finished product, as nothing compares to the personalised fit of custom-made clothing!
Have you downloaded your Free e-Book yet? Just Click the link at the top of the page.