There seems to be little doubt that women are the greatest hoarders of clothes stashed away that they never wear, some of them have still got the sales tag on them.
The two most common reasons are:
They're in denial about their reality and impulse buy.
The sales assistant tells her she absolutely looks lovely in it when it's really sabotages them.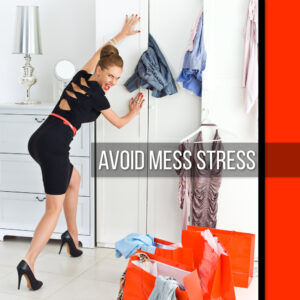 According to a recent survey 50% of women admit to owning three or more unwanted pairs of shoes, 44% of women have three or more pairs of unwanted trousers and 80% of women have a suit they no longer can wear or want to wear.
Most people have about 100 or more of these in their wardrobes, with another group of people with 500 or more (yes, there are two distinct groups of people – which one are you?)
Would you agree that most major items ie trousers, jackets, shoes, boots, handbags, jewellery, skirts and blouses would cost you on average $100 per item?
If you multiply this $100 by the 100 you would have at least $10,000 or more in value hanging up in your wardrobe.
If you have a larger wardrobe, you do the Maths!
Have you ever wondered why women all around the world spend millions of dollars on clothes every year that never come out of their wardrobe? 
The average man and woman would wear only 20% of these 80% of the time, yes?   Given that this could well be the case for most families, a whopping 80% of the $10,000, that is $8000, remains unloved and unwanted.
We repeat that habit every 5 years.
What else could you do with that money if you only knew how to avoid it in the first place?
Why we lose our way.
The high cost of shopping for special outfits for a special occasion, instead of shopping for clothes as part of our annual budgeting.
We lose and gain weight and lose track of our personal style.
Our body changes shape four times over our lifetime.
Our lifestyle and values change.
We can develop unreasonable expectations with regard to what we could or should look like.
Our financial position changes.
Our work life dominates our time.
As we age, remaining "current" and "age appropriate" are confusing.
We are confused by fashion trends and shop according to our "wish list".
We are influenced by the opinions of our families, friends and the media.
We are not aware of our body shape, how to use line, colour and design and our individuality, and ultimately, do what our mothers did.
How we find it again
Know that You are beautiful and unique. Fall "in love" with your body and accept your authenticity and individuality.   It's not your body, it's your clothes.
Get style savvy for your body shape and let your body "tell" you what works and what doesn't.
Clean out the clutter and the unusable for colour, style or wear and tear reasons.
Save what works and what can be repeated in a variation of a theme.
Try it all on and use a mirror behind you so you can also see the view from the rear.
Find the gaps in your wardrobe and create a plan.
Get a buying strategy for your shape, lifestyle and work requirements and create a budget.
Shop in your own wardrobe. A full-length mirror is a girl's best friend. Ask someone whose opinion you trust to offer a second opinion.
If you are handy with a sewing machine, alter what can be altered or have it remodelled professionally.
Have a body shape analysis and learn the skills to dress for YOUR shape.
Learn how to make your own judgements and trust them.
The Bottom Line:
A small, functional wardrobe beats a large, limited wardrobe anytime.  Whatever the size of the wardrobe, if you make your pieces earn their place in your collection, you'll soon discover what well-dressed women the world over have known for years: size doesn't matter, but functionality does.
Create a love affair with your clothes.
Make it fun and make the time to spend a couple of hours without the kids, the phone, the hubby.
Have you downloaded my
complimentary eBook?